Winter Out, Spring Hiking In
Blog
Exploring
Hiking
March 26, 2022
Hi all:
Trying again today with the new email platform. 🤞🏻
I'm letting go of my deep desire for new snow and mentally moving toward spring. The lighter afternoons do help that shift. I'm hoping we have a few more weeks of spring skiing, but on a recent uphill ski through the woods at Black Mountain of Maine, I had to make a river crossing, stomp across bare, brown ground, and avoid numerous rocks and roots – so I'm thinking that it's groomed trail skiing from here on out.
Looking ahead to the next season of adventure, I want to offer you some ideas for spring hiking. I asked our Adventure Experts for their favorite spots and these are the hikes they shared with me.
Kate writes: My list is long, but here are the first three on my list to schedule. In the spring I like to go south a little where it is a little warmer and a little drier. The weather sometimes makes it harder to plan so I have a few shorter hikes listed here that I am planning on scheduling soon!
Mount Agementicus, York, Maine
Approximately 3.9 m
Trails: Ring, Fisher, Witch Hazel, Chestnut Oak, Porcupine to Dragonfly Loop, Rocky Road, Ring Trail
AMC Best Day Hikes Along The Maine Coast, p. 12
Smith Preserve, Kennebunkport, Maine
Outside Loop: yellow (to green fox den loop), white red, yellow
Approximately 7.0 m
Wells Reserve at Laudholm, Wells, Maine
Approximately 4.2 m
AMC Best Day Hikes Along The Maine Coast, p. 18
Carla writes: Spring hikes are great where there's snow-melt water—Caribou on rte. 113, Jericho Falls/Reeds Mills in Kingfield, and Oversett Pond and Sanborn River Loop in Greenwood. Also, Dunn Falls in Andover.
Olivia writes:

In Maine:
Pleasant Mountain, Denmark is always a good one! I'll probably pick up my AM hikes on the Bald Peak trail here soon 🙂
Mackworth Island, Portland
Harpswell Cliffs, Harpswell
Footbridge path, Ogunquit
Mt Agamenticus, York (same as Kate!)
Heath Preserve, Saco
Old Speck, Grafton Notch

In New Hampshire:
Mt Jackson, Mt Pierce & Mt. Webster Loop in NH
Mt. Cardigan
Mt. Wiley, Mt. Tom, Mt. Field, Crawford Notch

She says, There are many more. I'm in need of getting out to hike so I'll be posting on the FB page for some company. Check out the private LAC FB page to see when Olivia might be heading up into the mountains.
Lastly, this is what Kelly says about spring hiking: It's a rough time—people need to be ready to hike through (and I do mean through! Not around!) considerable amounts of mud. If that's not your jam, beaches are great.
Supporting Kelly's point, the U.S. Forest Service posted on Facebook reminding hikers that "mud season is the transitional time between winter and spring when the combination between snow, rain, and melting creates very wet conditions. Hiking during this time can have major impacts on trails and fragile ecosystems. To prevent damaging the environment turn around when the trail is extremely muddy. Don't widen the trail or damage vegetation by walking around the muddy areas." (Thanks to Kate for finding this U.S. Forest Service post.)

What are your favorite spring hikes in Maine and New Hampshire? There are so many to indulge in. Remember that even though the snow is gone in your yard (I'm guessing), there's more than a good chance that you'll need your microspikes at elevation. Check out the images from an LAC hike last April at Kearsarge North in New Hampshire.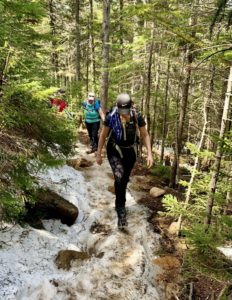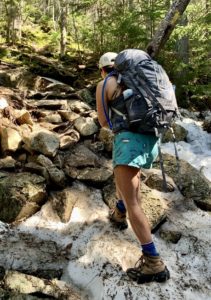 Photos by Kate Burnham
Flowfold is offering a 25% off coupon to all LAC community members. Use this code when you order from this well-regarded, community-minded, Maine-based company: LAC25
Order your orange LAC beanie today or maybe one of our fab trucker caps! Head over to the LAC store page.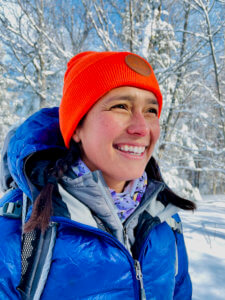 Laura wearing her orange LAC beanie
Don't forget that we have a private Facebook page that you are welcome to join and an LAC Instagram feed that we'd love you to follow.
Upcoming community events:
Outdoor adventure in the shoulder season are limited (as far as I can tell). I'm sure the calendar will fill up again as spring dries out and we bid adieu to mud season.
In recognition of Women's History Month, here's a Portland Women's History Trail.
Maine:
☀️ April 1: New Moon Dip with Two Maine Mermaids
☀️ April 16: Full Moon Dip with Two Maine Mermaids
☀️ April 22-24: Spring Wellness Weekend at River Bend Farm
☀️ May 21: Becoming an Outdoors Women
New Hampshire:
☀️April 3: Wild Corn Backcountry Shindig
Happy adventuring,
P.S. My husband is a communication and leadership coach and he has put together a workshop on "Vocal Presence: Finding Your Embodied Voice" for women only. It's facilitated by a woman as well. You can learn more about it here.