In Praise of Screwing Up
Blog
April 3, 2022
Hi all:
Last Sunday I sent out an email via a platform that's tricky to use and if you opened the email, you would have seen emojis the size of VW Beetles and a couple of blurry photos too. When I saw it in my inbox, I quickly redid the email on a platform I know better (this one) and resent, asking you to open the second email. I know that no one else cared about the screw up, but I did. It was only an email celebrating hiking in spring, but my perfectionist streak couldn't let go of the errors I made. Ugh. I'm guessing that within this community there are some very chill and laid back adventurers and I'm also thinking that there are some folks wound a little bit more like me. Letting go of perfectionism, which in my mind also means being okay with failure (I can't quite say "embracing," but maybe one day), is something I've been noodling over these past few months. There was a time in my late 30s and early 40s when I took some risks, which I think I've written about before – I signed up for my first triathlon, I started keeping bees, I took Italian lessons (learning languages causes me HUGE stress), and I'm sure there were other ways in which I pushed myself. These risks were purposeful. Pushing myself into discomfort and possible failure was the goal. And then of course starting the LAC was a big risk, but that felt less scary because it was in-line with my values and my strengths. As I enter my 50s, I think it is time to walk that edge again, feel the upheaval beneath my feet, let my heart beat faster with anticipation of both success and failure, and of course, find tranquility when I screw up, which of course, will happen. Will you join me in some calculated risk-taking? Will you join me in letting the smudges of non-perfectionism show through? And will you hold up your friends and women in your community when they take those same risks. I hope so.

LAC Adventure Expert, Olivia is starting up her Get the Dogs Out evening walks. Check the private LAC Facebook page for cancellation info (weather related).
Tuesday, 4/5 – Cherry Hill –> 5:30, meet in the parking lot off of Main Street, Gorham
Where: Shaw Cherry Hill Farm in Gorham (off Main St., behind Sebago brewing)
When: 5:30-6:30/7, meet in the parking lot
What: An easy evening walk
Who: You (with or without your pup).
There is no need to sign up for this event; feel free to join if you are available and need to stretch your legs. I'd recommend the dogs remain leashed throughout the walk.

Potentially the next 3:
Wednesday, 4/13 – Twin Brooks –> 5:30,  park off of Tuttle Rd. in Cumberland by the pavilion.

Wednesday, 4/20 – Jewell falls (Portland Trails) –> 5:30, Fore River Sanctuary trailhead of Rowe Ave. this is a small parking area but it's a neighborhood so street parking is accommodating.

Wednesday, 4/27 – Fort Williams –> 5:30, park by the baseball field which is closest to the leash-free area. Cape Elizabeth.

For those of you who missed last week's email, I included some spring hiking spots suggested by our Adventure Experts. Here's the list:
Mount Agamenticus, York
Smith Preserve, Kennebunkport
Wells Reserve at Laudholm, Wells
Caribou on rte. 113, Gilead (this road may still be closed for winter)
Jericho Falls/Reeds Mills, Kingfield
Oversett Pond and Sanborn River Loop, Greenwood
Dunn Falls, Andover
Pleasant Mountain, Denmark
Mackworth Island, Portland
Harpswell Cliffs, Harpswell
Footbridge path, Ogunquit
Heath Preserve, Saco
Old Speck, Grafton Notch
Mt Jackson, Mt Pierce & Mt. Webster Loop in NH
Mt. Cardigan, NH
Mt. Wiley, Mt. Tom, Mt. Field, Crawford Notch, NH
Flowfold is offering a 25% off coupon to all LAC community members. Use this code when you order from this well-regarded, community-minded, Maine-based company: LAC25
Get ready for spring and summer – order your LAC trucker cap today! Head over to the LAC store page.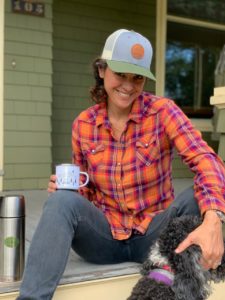 Low on outdoor adventures to share in this moment. That will change once we move more firmly into spring and summer.
Maine:
☀️ April 2-22: L.L. Bean 15 Challenge
☀️ April 16: Full Moon Dip with Two Maine Mermaids
☀️ April 22-24: Spring Wellness Weekend at River Bend Farm
☀️ May 21: Becoming an Outdoors Women
Your LAC leadership team (Kate, Laura, and I) are cooking up our next community gathering which will be in late June and have a number of fun components. Details coming soon…
Happy adventuring,