More Adventures & Next LAC Gathering ☀️
Adventure
Blog
April 20, 2022
Hi all:
For those of you who know me, I'm a planner and I plan far in advance. To this point, I'm planning a summer adventure for you right now. The LAC is partnering with L.L. Bean on Wednesday, July 13th for a LAC-only sunset/full moon tandem kayak adventure led by the Outdoor Discovery Program folks.
Details:
Date: July 13th
Time: 7-10 p.m.
Leaves from L.L. Bean's paddling center in Freeport
All paddling gear provided
Cost is $79/person
If you'd like one of the 14 spots, please call the reservation center at 888-270-2326 to make your reservation. Mention the Ladies Adventure Club when you call. It promises to be a fabulous evening adventure!
If canoeing is more your jam, check out the outfitter, Allagash Canoe Trips, a fabulous outfitter based out of Greenville. I've paddled both the Allagash and the St. John rivers with them. Right now, they're offering a 20% discount for their May 15th-20th St. John trip. The guides cook all the (delicious) food, clean up the dishes, and take care of everything except the paddling and setting up and taking down of your tent. It's a true wilderness retreat. Here are a couple of photos from last May.
And if you're curious about rock climbing, reach out to Noah at Equinox Guiding Service. The LAC has participated in a few very successful and fun ice climbing trips with this outfit and I know that the rock climbing adventures are equally exciting.
LAC Adventure Expert, Olivia is half way through her Get the Dogs Out evening walks. Just show up for an evening walk with your pup or without. Check the private LAC Facebook page for cancellation info (weather related).
When: Wednesday, 4/20
Where: Jewell Falls (Portland Trails) –> 5:30, Fore River Sanctuary trailhead off Rowe Ave. this is a small parking area but it's a neighborhood so street parking is accommodating.
What: An easy evening walk
Who: You (with or without your pup).
There is no need to sign up for this event; feel free to join if you are available and need to stretch your legs.
Please contact Olivia directly if you have any questions.
Olivia's cell: ‭(845) 625-4632‬.
Here are two happy pups on last week's walk: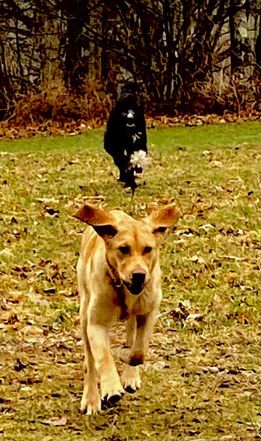 Potentially the next one:
Wednesday, 4/27 – Fort Williams –> 5:30, park by the baseball field which is closest to the leash-free area. Cape Elizabeth.Our next LAC community gathering is on Thursday, June 30th.
No need to sign up; just show up! 
Location: Kettle Cove, Cape Elizabeth
Date: Thursday, June 30th
Time: Meet at 5:00 p.m. for a 2.5-3.0 mile walk (meet-up spot TBD). 6:30 BYO picnic on the beach. 7:30ish ice cream at Kettle Cove Creamery.
You are welcome to join for some or all of the evening activities. Bring your favorite blanket, beach/camp chair, and a female friend (maybe someone new to Portland).
Flowfold is offering a 25% off coupon to all LAC community members. Use this code when you order from this well-regarded, community-minded, Maine-based company: LAC25
Get ready for spring and summer – order your LAC trucker cap today! Head over to the LAC store page.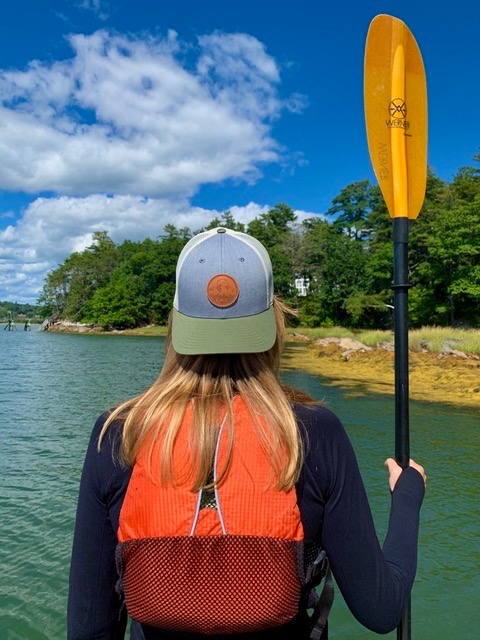 One of our favorite ski shops is having an amazing sale on in-stock gear. If you're up in the Carrabassett Valley area, swing by Happy Tunes and check out these deals.
ALL SKIS*:
Starting SUNDAY,  4/17     40% OFF!
SUNDAY, APRIL 24TH     50% OFF!

Upcoming Community Adventures
Maine:
☀️ April 2-22: L.L. Bean 15 Challenge
☀️ April 20-June 29: Women's Hike Night at Pineland Farms
☀️ April 22-24: Spring Wellness Weekend at River Bend Farm
☀️ May 21: Becoming an Outdoors Women
☀️ June 30: LAC Community Gathering at Kettle Cove
☀️ July 13: LAC & L.L. Bean Sunset/full moon Tandem Kayak Adventure
☀️ August 14-16: Camp Adventures for Grown-Ups
Very lastly, if you were an active member and used the Wild Apricot app or website, I'll be closing it down tomorrow. Grab any info you may want or need from it today.
Happy adventuring,