Spring Shakedown Hike
Blog
April 24, 2022
Spring Shake Down Hike, Kate Burnham
I hate to admit this, but it has been a while since I've gotten out to hike. I'm finding it a little hard without the outer accountability of having a scheduled hike with the LAC. How about you?
The trouble with spring hiking plans is . . . the weather. Conditions in early spring vary widely which is often why I like to go south where it tends to be a little warmer and a little drier sooner than other parts of Maine. In years of heavy snow there may be snow and serious mud on the trails until the end of May! I'm personally DONE with the snow!
Last week I completed my first spring shake down hike. I decided that I was going to use Kelly Corbin's Sea to Summit progression series to get me through spring and into hiking shape – I'm starting with Mount Agamenticus!
MOUNT AGAMENTICUS
Location: Less than 1 hour from Portland in York, Maine
Directions: From I-95 Exit 1 in York, turn right onto Chases Pond Road and follow for 3.5 miles. Bear left onto Mountain Road and continue 2.7 miles to the end of the paved road. The summit path trail begins at the gravel parking lot.
Trail Description: There are lots of options. Print out a map and/or pick one up at the kiosk at the trail head. We took Ring trail to Rocky Road: Rocky Road to Porcupine; Porcupine to Second Hill; Second Hill to Ridge Trail; Ridge Trail to Chestnut Oak; Chestnut Oak to Sweet Fern; Sweet Fern to Big A; Big A to Summit Staircase and First Hill; First Hill to Big A; Big A to Vultures View; Vultures View to Ring Trail . . . to Mountain Road Parking.
Rating: Easy
Total Distance: 4.9 – 5.3 miles (but I'm guessing)
Hiking Time: Approximately 3 hours
Bring a Friend: LAC Ambassador, Liz Freeman
Sources: http://agamenticus.org
Things to Remember:
1. Clean and waterproof your boots!
2. Wear footwear to match the trail conditions – Liz and I both wore waterproof hiking boots.
3. Walk single file and in the middle of the trail – we used rocks and debris whenever possible to go through, not around the mud in an effort to preserve the trail.
4. Don't forget the poles – they are helpful on uneven, leaf covered trails and will create more stability when hiking through mud and crossing water.
5. Spring in Maine means unpredictable weather – don't forget your rain gear and throw a pack cover in your outside pocket for pop up showers
6. Update your personal first aid kit and add your list of allergies, medications, and emergency contact information – especially if you hike solo.
7. Sunscreen and a hat.
8. It's time to check for ticks and prepare ahead by using your tick replant, such as CedarCide which is safe for people and pets, and gaiters – and make sure you check for ticks on you and your pet after each hike.
What would you add to the list of "Things to Remember" when you are preparing for spring hiking? Drop your "must have" or "must do" in the comments on our LAC Private Facebook Page.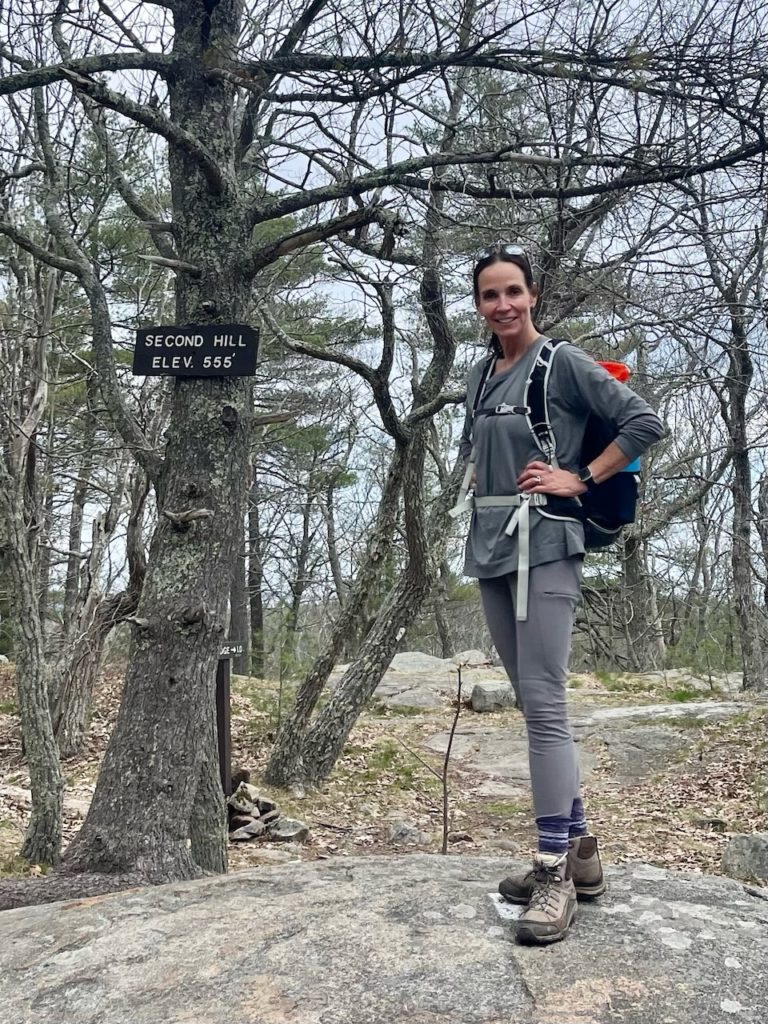 Liz at Mount A's Second Hill
Thanks for this thorough hike report, Kate.
Last week I shared that the is partnering with L.L. Bean on Wednesday, July 13th for a LAC-only sunset/full moon tandem kayak adventure led by the Outdoor Discovery Program folks.
Details:
Date: July 13th
Time: 7-10 p.m.
Leaves from L.L. Bean's paddling center in Freeport
All paddling gear provided
Cost is $79/person
If you'd like one of the 14 spots, please call the reservation center at 888-270-2326 and confirm your reservation. Mention the Ladies Adventure Club when you call. It promises to be a fabulous evening adventure!
LAC Adventure Expert, Olivia hosts her last Get the Dogs Out evening walk. Just show up with your pup or without. Check the private LAC Facebook page for cancellation info (weather related).
When: Wednesday, 4/27
Where: Fort Williams –> 5:30, park by the baseball field which is closest to the leash-free area. Cape Elizabeth.
What: An easy evening walk
Who: You (with or without your pup).
There is no need to sign up for this event; feel free to join if you are available and need to stretch your legs.
Please contact Olivia directly if you have any questions.
Olivia's cell: ‭(845) 625-4632‬.
Our next community gathering is on Thursday, June 30th.
No need to sign up; just show up!
Location: Kettle Cove, Cape Elizabeth
Date: Thursday, June 30th
Time: Meet at 5:00 p.m. for a 2.5-3.0 mile walk (trailhead TBD). 6:30 BYO picnic on the beach. 7:30ish Ice cream at Kettle Cove Creamery.
You are welcome to join for all or some of the evening. Bring your favorite blanket, beach/camp chair, and, if you'd like, invite a female friend (maybe someone new to Portland).
Flowfold is offering a 25% off coupon to all LAC community members. Use this code when you order from this well-regarded, community-minded, Maine-based company: LAC25
Get ready for spring and summer – order your LAC trucker cap today! Head over to the LAC store page.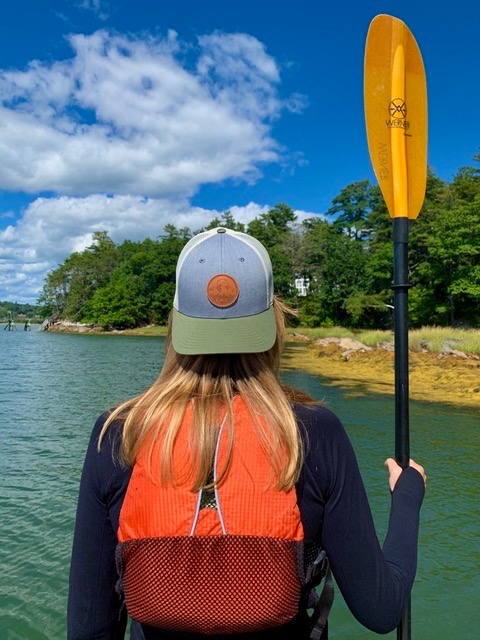 Upcoming Community Adventures
Maine:
☀️ April 20-June 29: Women's Hike Night at Pineland Farms
☀️ May 21: Becoming an Outdoors Women
☀️ June 25: Lakes Environmental Association, Paddle Battle
☀️ June 30: LAC Community Gathering at Kettle Cove
☀️ July 13: LAC & L.L. Bean Sunset/full moon Tandem Kayak Adventure
☀️ July 22-24: Ladies Hike, SUP, and Yoga Camping Retreat
☀️ August 14-16: Camp Adventures for Grown-Ups
Happy adventuring,