Build your community!
Blog
April 10, 2022
Hi all:
This week's email is written by LAC member, Meg Steele Barker. Thanks, Meg!
Taking inspiration from the Ladies Adventure Club, after the first of the year, I considered other areas of my life that had adventure and community-building potential. I didn't have to look too hard before landing on my work place, Fisher Mitchell School in Bath. After two years in masks, with very little socializing in or out of school, we were ready! I reached out to three trusted outdoorsy friends on staff with my idea – a semi regular outing club – just for adults, local spots, weekdays after school (at least at this point.) They were IN and would help talk it up and most importantly – show up themselves. We picked our first date, and a local hiking spot (Lily Pond, right across the street from our school in Bath.) I sent an email out to all staff – and a few reminders. All are welcome. No RSVP required. Meet in front of the school at 3:20 on the day of. A good mix came! It snowed the day before! The trail was tricky! But the walk out onto the iced pond was glorious (see photo). My tips / tweaks to this low key approach – be VERY clear about your meeting place and time. Provide one or two cell numbers for "if needed" contact. We have done one other outing since (with another good mix of people) and have a mind to do a couple more before year's end. Our school nurse created a mini – wellness campaign promotion tied to our activities. And, rumor has it our principal is looking into booking us a guided paddle on the New Meadows River for the of the year. Some small steps, but with big impact, and LAC inspired. ❤️
Where in your life can you create community? It's so worth it even if it takes a little effort. The benefits are significant. Just ask Meg!
LAC Adventure Expert, Olivia has started up her Get the Dogs Out evening walks. Show up for an evening walk with your pup or without.
When: Wednesday, 4/13
Where: Twin Brooks –> 5:30 (park off of Tuttle Rd. in Cumberland by the pavilion)
What: An easy evening walk
Who: You (with or without your pup).
There is no need to sign up for this event; feel free to join if you are available and need to stretch your legs. She recommends that the dogs remain leashed throughout the walk. Please contact Olivia directly if you have any questions. Olivia's cell: ‭(845) 625-4632‬. Check the private LAC Facebook page for cancellation info (weather related).
Potentially the next two:
Wednesday, 4/20 – Jewell falls (Portland Trails) –> 5:30, Fore River Sanctuary trailhead of Rowe Ave. this is a small parking area but it's a neighborhood so street parking is accommodating.

Wednesday, 4/27 – Fort Williams –> 5:30, park by the baseball field which is closest to the leash-free area. Cape Elizabeth.
Flowfold is offering a 25% off coupon to all LAC community members. Use this code when you order from this well-regarded, community-minded, Maine-based company: LAC25
Get ready for spring and summer – order your LAC trucker cap today! Head over to the LAC store page.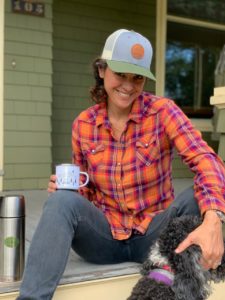 One of our favorite ski shops is having an amazing sale on in-stock skis. If you're up in the Carrabassett Valley area, swing by Happy Tunes and check out these deals.
ALL SKIS:
Starting SUNDAY 4/10      30% OFF!
Starting SUNDAY,  4/17     40% OFF!
SUNDAY, 4/24     50% OFF!
Upcoming Community Adventures
Maine:
☀️ April 2-22: L.L. Bean 15 Challenge
☀️ April 16: Full Moon Dip with Two Maine Mermaids
☀️ April 20-June 29: Women's Hike Night at Pineland Farms
☀️ April 22-24: Spring Wellness Weekend at River Bend Farm
☀️ May 21: Becoming an Outdoors Women
Happy adventuring,