Hiking with TEENAGERS
Blog
Hiking
October 16, 2022
Hi all:
This past week I had the pleasure of taking my 12-year old niece and 15-year old nephew for a hike in Brownfield. They were spending time with me, had the day off of school and I wanted an activity that would engage them and one that I would enjoy as well (I couldn't bear a trip to the mall). I didn't ask, but told them that we would be hiking together and remembering my experiences with my own kids, braced for some push-back. Aside from a quick look of disbelief, there was none. I think this is the joy and benefit of being an aunt – the kids love you, but don't argue with you. I offered them a harder hike or an easier hike and it was quickly decided that we'd take on the easier hike. I have to say, for an easier hike, we had amazing views, a really nice walk with incline, a few tiny scrambles and a sense of achievement, which is exactly what I wanted for them both. If you're looking for a trail that you can walk in less than two hours (although the drive was an hour each way from Portland) with great views, check out Peary Mountain. My pups loved it too.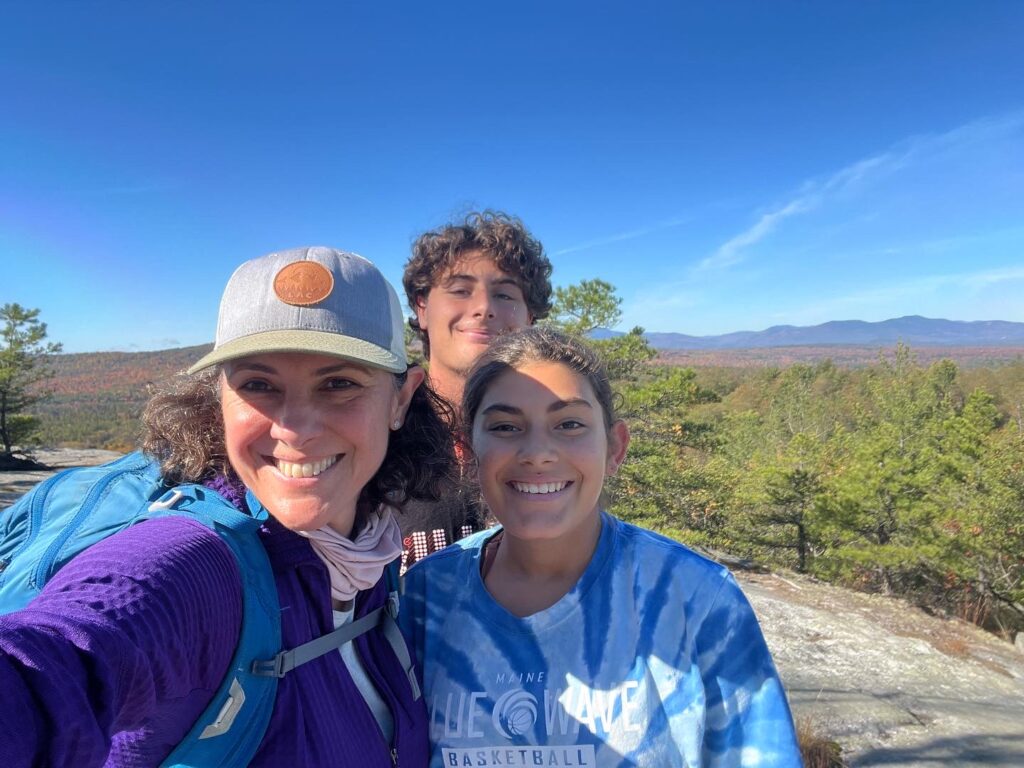 🍂 Mackworth Island Morning Walk: meet in the parking lot at 7:30 a.m. on Thursday, October 20th.
❄️ Oxbow (in Oxford) Cross Country Ski Adventure and Pizza & Beer! on Sunday, January 29th in the afternoon. (May be preceded by a skinning adventure at Mount Abrams. Woot woot! 🎿)
Do you remember mountaineer Lisa Thompson's LAC Zoom? She is the first all-American woman to summit K2 and in December 2020 we enjoyed a presentation and a good Q&A with her. You can see the video here. In January 2023, Lisa's book, Finding Elevation hits the shelves and our new local book shop, Back Cove Books will pre-order a number of copies for us. If you'd like one, drop Becca a line.
Are you on our private LAC Facebook page? This is the perfect spot to connect with other adventurers, plan hikes (and other adventures), ask for advice on gear, etc… if you're not a member, you can find the page right here.
Upcoming Community Adventures — To ease confusion, these are not LAC adventures (except for the ones that say, "LAC"). These are adventures we're sharing that are put-on by other orgs. And if you have ideas for the calendar, please send me a note.
Maine
🍁 October 19: Pineland Farms Women's Hike Night
🍁 October 20: LAC Mackworth Morning Walk
🍁 October 16-23: AMC Dark Sky Party
🍁 October 23: Pineland Farms Nature Forest Therapy
🍁 October 25: Maine Audubon Plant Walk
🍁 October 27: Maine Audubon Bird Walk
🍁 November 4-6: Cast Iron Chef Weekend
🍁 December 6: LAC Zoom (details coming soon)
🍁 January 29: LAC Oxbow Cross Country Ski Adventure
New Hampshire
🍁 November 5: Tin Mountain Forest Management: Past, Current and Future
 
Happy adventuring,