Camp Cooking Weekend + Fall Colors are 100%!
Blog
Hiking
October 9, 2022
Hi all:
My weekly email is late again because I had a crazy long day yesterday and slept in a bit today (there's no more true sleeping in like when I was a teenager, unfortunately). I woke at 4:20 yesterday morning, drank my coffee, heated a can of soup for the thermos, and fried up an egg for a breakfast sandwich to go. In the car at 5:10 for a dark drive up to Freeport playing Florence + the Machine very loudly. I met up with two friends and off we drove for Carrabassett Valley. We arrived at the trail head for our 13-mile loop and met up with the rest of our hiking crew. Excitement was high, nerves were high, and packs were full. After a little chitchat, off we went. Our goal was the Bigelow loop of Firewarden's Trail, Avery Peak, Bigelow Peak, South Horn, and then down Horn's Pond Trail. I won't write a full trail report here, but some of the highlights: GORGEOUS views of changing leaves; fun with Gray Jays; hoarfrost on Avery Peak; lunch out of the chilly wind with views that went on and on and on; a fabulous ridge walk; bumping into a fellow LACer who was hiking with her daughter (Hi, Kirsten!); a moonrise, and finally the parking lot. My sore, sore knees were thrilled to see the outline of the cars in the darkness. We hiked for over 9 hours and for 13+ miles with a few good stops for snacks, lunch, gray jay shenanigans, and to appreciate the views that kept coming and coming. Here's the All Trails link if you'd like to head up soon. I bet hiking this in winter is stupendous. I'm a little bummed we skipped the North Peak summit (an extra .4 miles, but we were running out of daylight) and would hike to that next time I'm up there.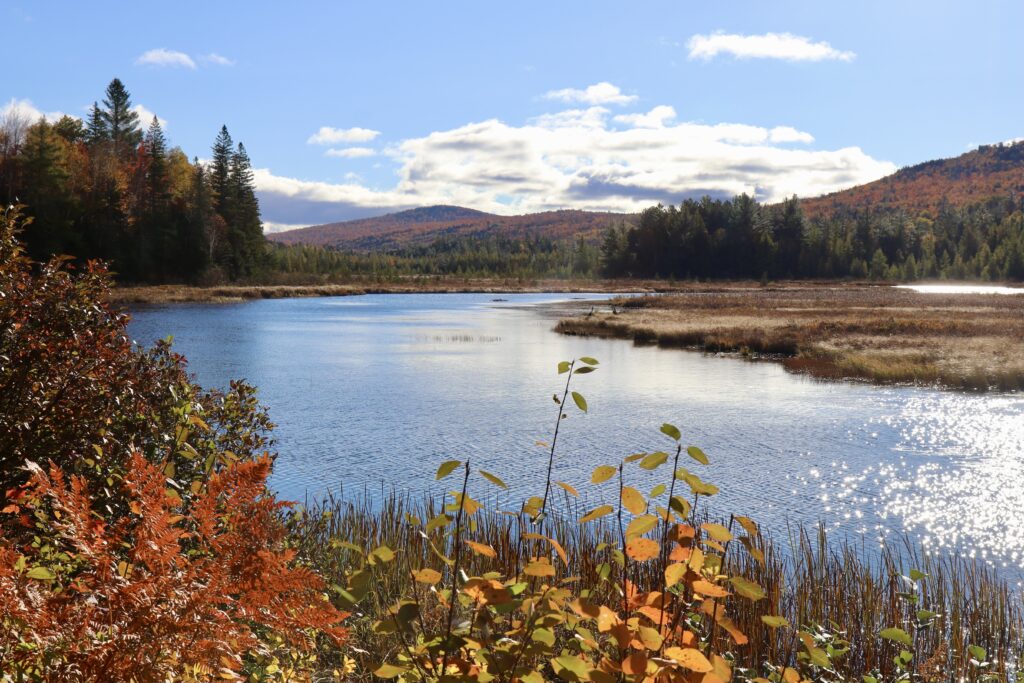 Photo by Kate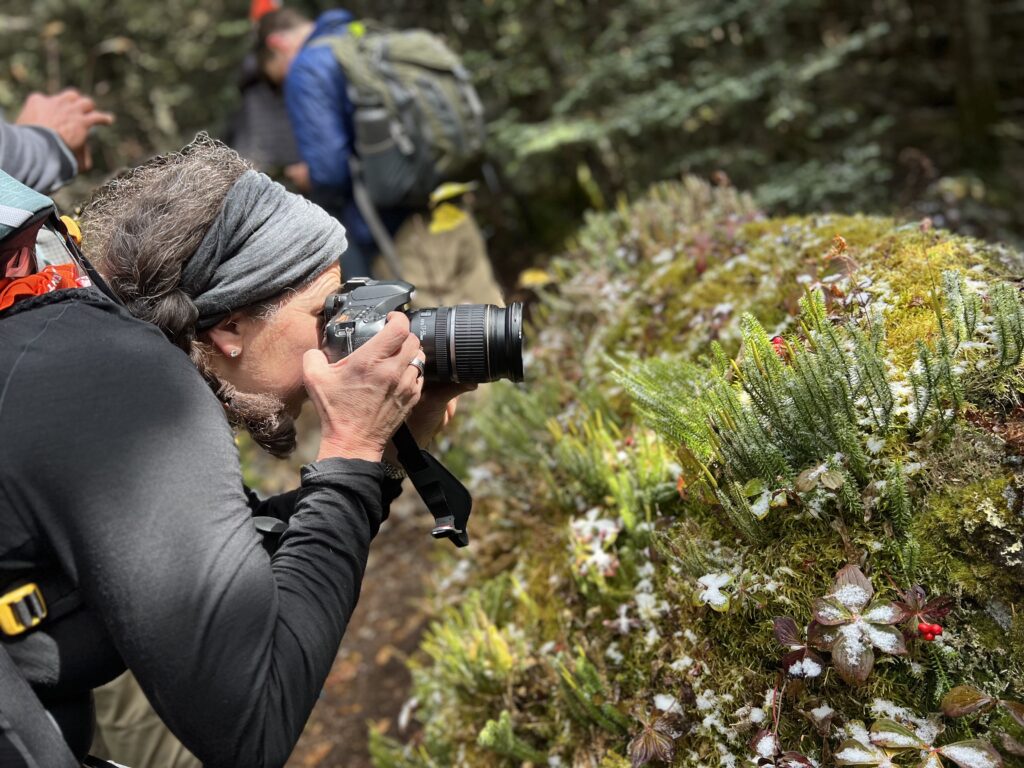 Kate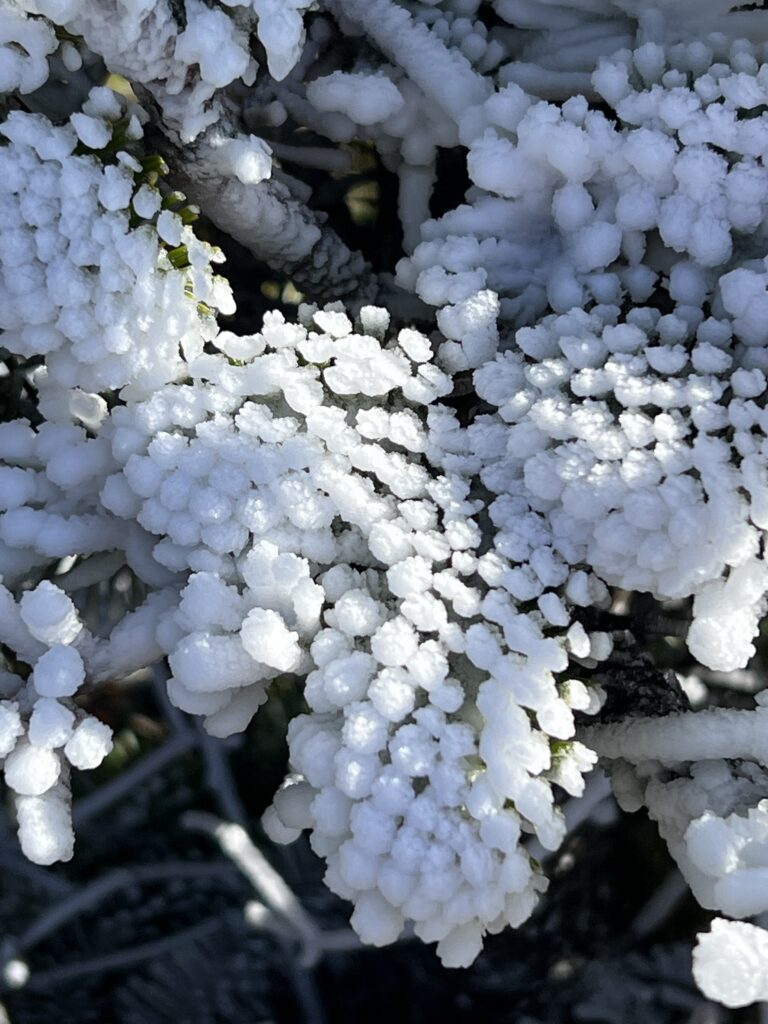 Photo by Kirsten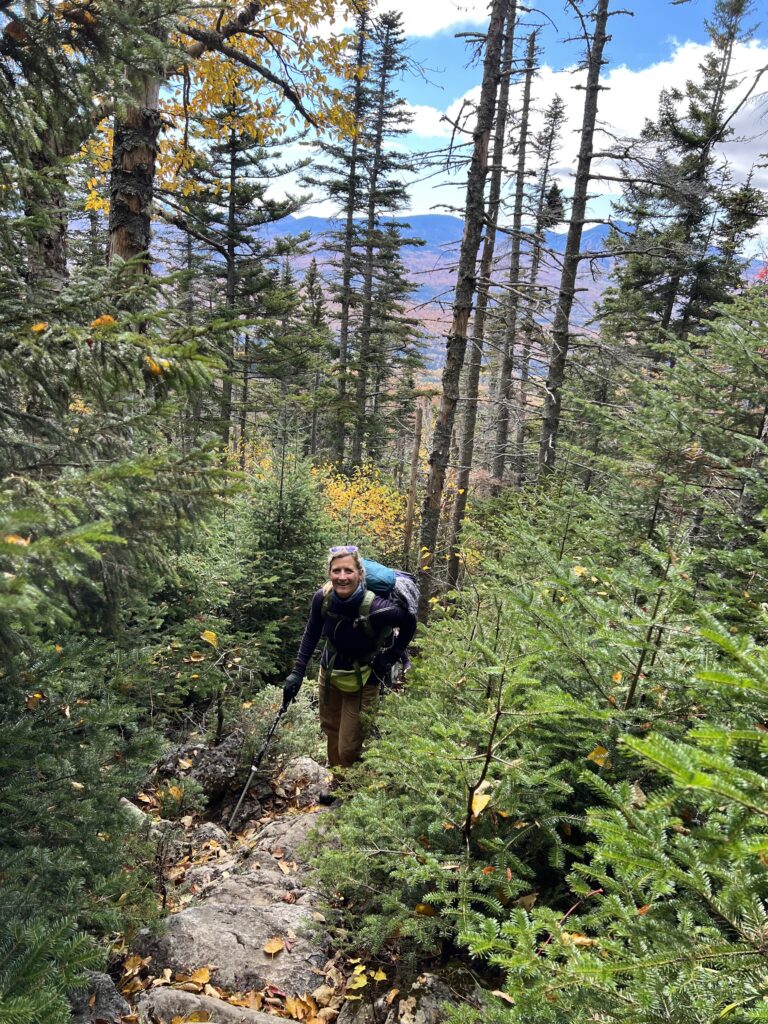 Anne on the tough Fire Warden's Trail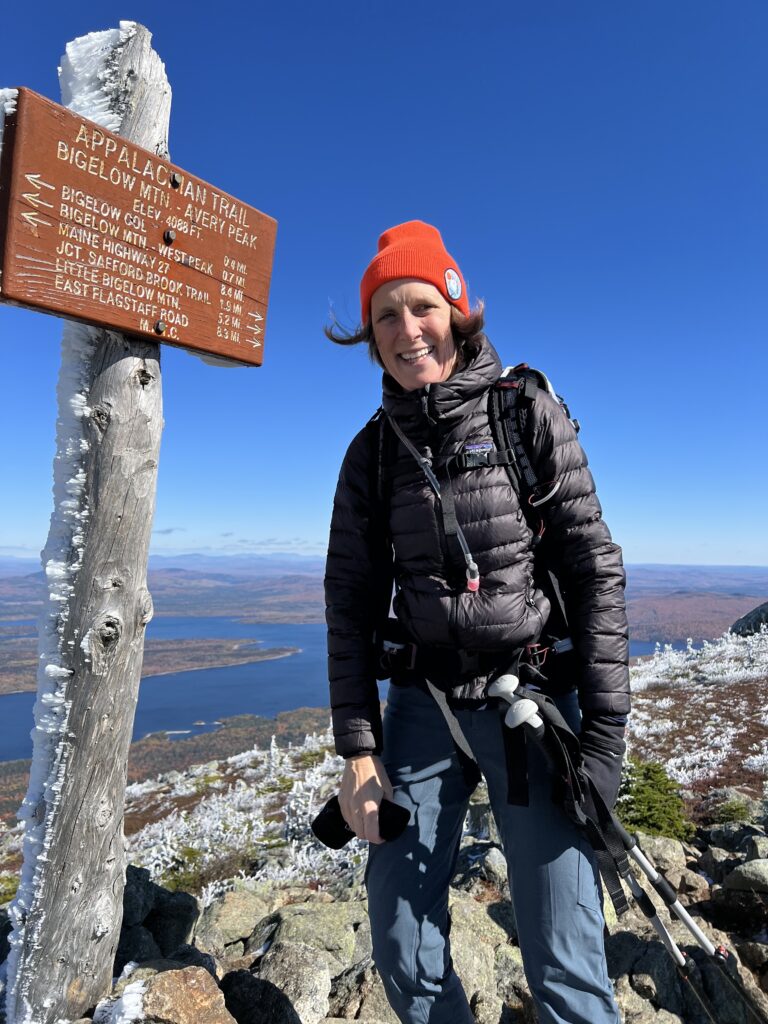 Patty close to the Avery summit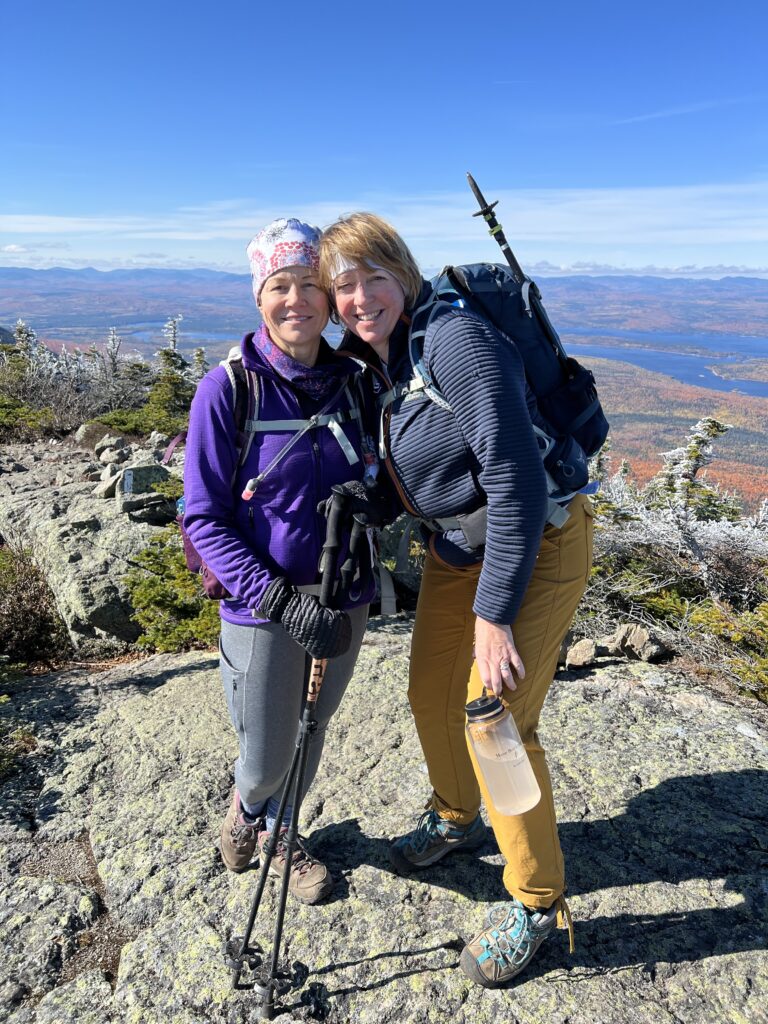 Susie and Heather along the ridge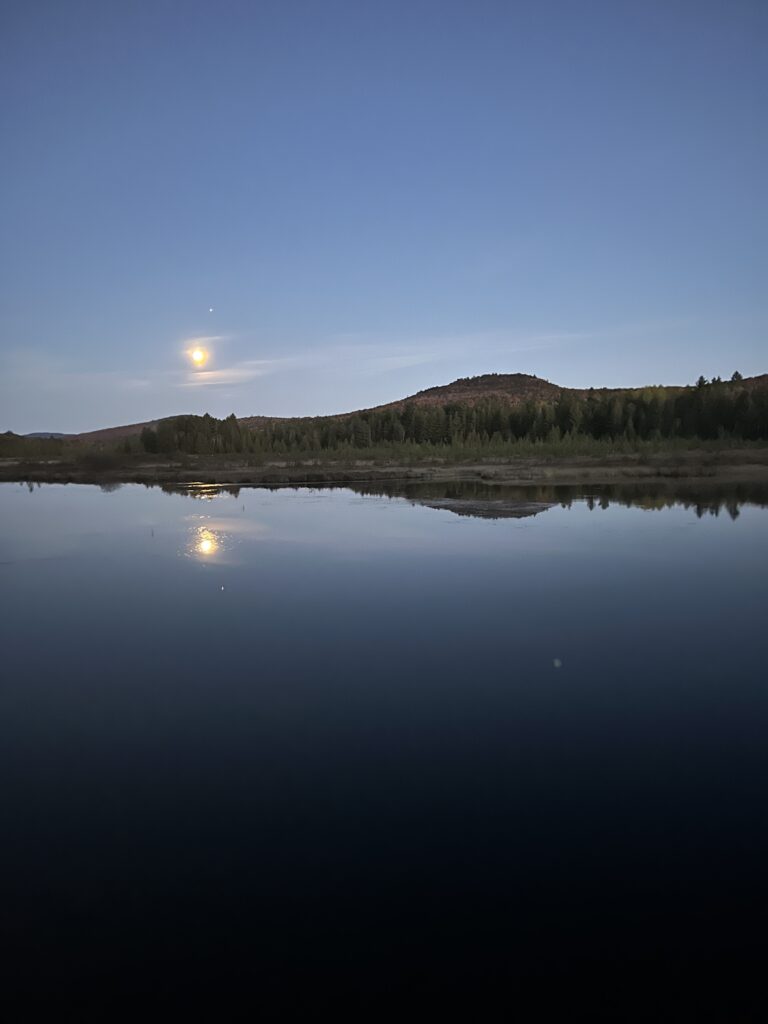 Moon rise at the end of the hike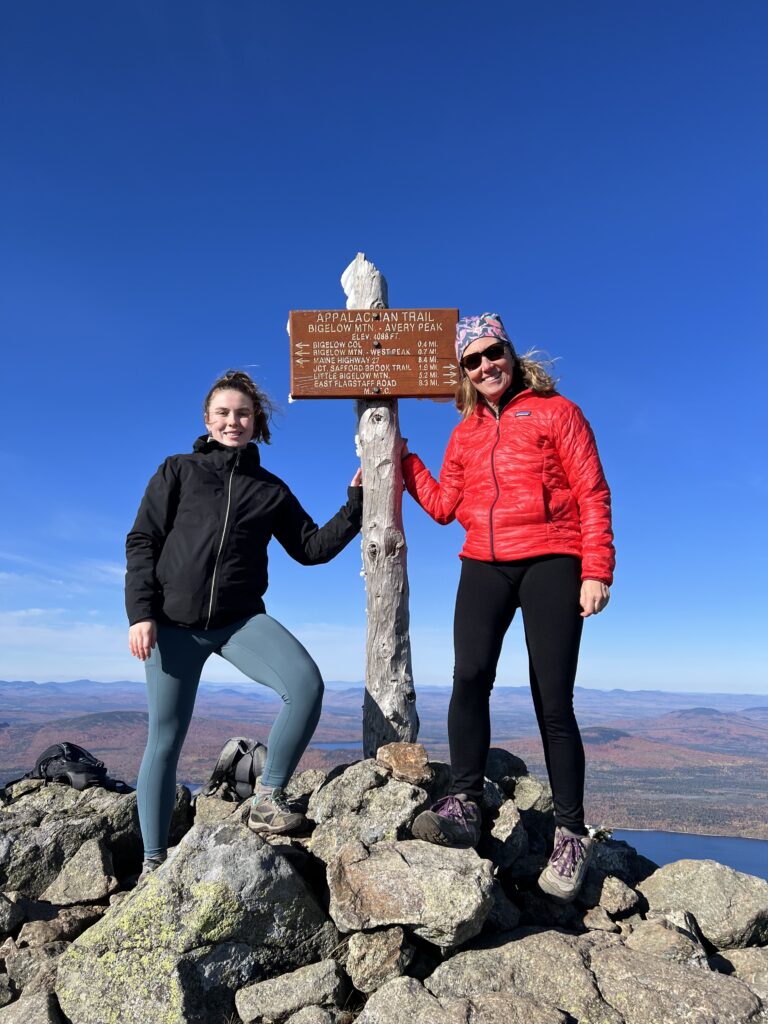 LACer Kirsten and her daughter. They hiked in the other direction from us.
Fun happening 🍳 for you: Jen Clark of Guides Gone Wild podcast is hosting Ari Leach of Blackbird Guide Services for a weekend of cast iron cooking at Jen's place, the Evan's Notch Lodge in Gilead, ME. Jen is offering LAC members/followers a 10% discount off your registration if you mention LAC in the 'How did you hear about the weekend' question on the registration form.
Here's the link for more details: https://www.guidesgonewild.com/iron-chef
(Cast) Iron Chef Weekend at Evans Notch Lodge, Gilead ME
November 4-6, 2022
Would be great to get a group of LAC women together for this!
LAC Community Events
🍂 Mackworth Island Morning Walk: meet in the parking lot at 7:30 a.m. on Thursday, October 20th.
🎦 A fun Zoom panel on Tuesday, December 6th at 7 p.m. Details coming soon…
❄️ Oxbow (in Oxford) Cross Country Ski Adventure and Pizza & Beer! on Sunday, January 29th in the afternoon. (May be preceded by a skinning adventure at Mount Abrams. Woot woot! 🎿)
Do you remember mountaineer Lisa Thompson's LAC Zoom? She is the first all-American woman to summit K2 and in December 2020 we enjoyed a presentation and a good Q&A with her. You can see the video here. In January 2023, Lisa's book, Finding Elevation hits the shelves and our new local book shop, Back Cove Books will pre-order a number of copies for us. If you'd like one, drop Becca a line.
Are you on our private LAC Facebook page? This is the perfect spot to connect with other adventurers, plan hikes (and other adventures), ask for advice on gear, etc… if you're not a member, you can find the page right here.
 
We're moving into hunting season so for you hikers and woods-walkers out there, it's time to pull out the blaze orange wear. If you're looking for a stylish option, check out the LAC orange beanie. Only a few left in stock. Another great orange item for you is the LAC bandana. Both available for order here. If you do want an orange bandana, put a note in the order as just the yellow ones are on the store website (we also have gray and yellow).
Upcoming Community Adventures – To ease confusion, these are not LAC adventures (except for the ones that say, "LAC"). These are adventures we're sharing that are put-on by other orgs. And if you have ideas for the calendar, please send me a note.
Maine
🍁  October 9: Pineland Farms Full Moon Hike
🍁 October 12: Pineland Farms Women's Hike Night
🍁 October 12/13: Maine Outdoor Economy Summit
🍁 October 15: Pineland Farms Mushroom ID Walk
🍁 October 15: MATLT Community Hike up Old Speck
🍁 October 20: LAC Mackworth Morning Walk
🍁 October 16-23: AMC Dark Sky Party
🍁 November 4-6: Cast Iron Chef Weekend
🍁 December 6: LAC Zoom (details coming soon)
🍁 January 29: LAC Oxbow Cross Country Ski Adventure
New Hampshire
🍁 10/15: Tin Mountain Fantastic Fungi Festival
Happy adventuring,