Hard Things
Blog
Kayaking
July 17, 2022
I've had a stinkin' summer cold for over two weeks now (no, it's not Covid). I definitely don't feel 100%, but I also don't feel crappy enough to stay in bed (nor would I want to with all this gorgeous weather!). Last weekend, after about seven days of feeling sick, my husband and I went for a bike ride in the mid-coast area. Do you know Route 32 in and around Round Pond? It's quite hilly as are the little side roads off of it. Long, steep hills are what I dread. The short ones, I can power up, but the long ones take so much effort. Seems like Route 32 has lots of long and steep ones. Anyway, I was feeling icky, suffering up the hills, and yes, getting into a grumpy mood. Who better to take it out on than my cycling partner? He turned back in his saddle and yelled, want to do another loop? WTF? No, I did not. My brain did a quick process and even though I really did not want to ride that loop again, I thought to myself, do I want to give up or push? Here's the phrase that visits me over and over, I CAN DO HARD THINGS. I welcome these words when they pop into my brain because I know that I can do hard things, but I sometimes need a reminder to urge me through the challenging spots when giving up seems the more enjoyable option. The mental piece of adventuring is massive and if I can shift my brain into a place of acceptance of hard things, my body will follow. Turns out we didn't do the second loop (I think Seth didn't want my grumpiness to take over the morning), but we did find a pretty side road that took us through a lovely neighborhood we had never explored before. But guess what, there were lots of hills. And you know what else, I rode them all – not because my body wanted to, but because my mind knew I could.
🌅 What a perfect night the LAC crew had for the L.L. Bean kayaking adventure. Did you see that Buck Moon on July 13th? Holy moly. Well the LAC kayakers saw it up close from the water and from what I hear, they had a marvelous time.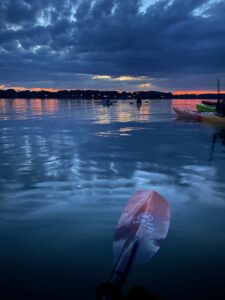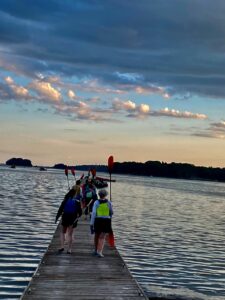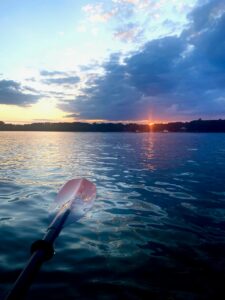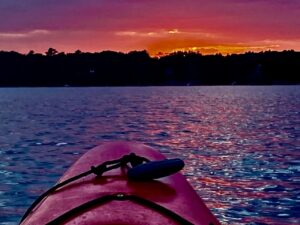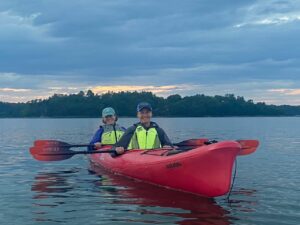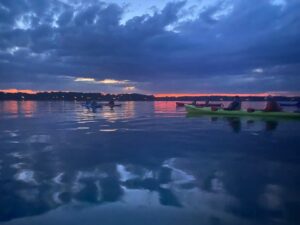 All photos by Margie Dwyer
How's the LAC Summer Land Trust Bingo going for you? The first 20 people to submit their completed bingo cards here, will receive one of these YETI mugs! Thanks again to Polartec for sponsoring the LAC Summer Land Trust Bingo.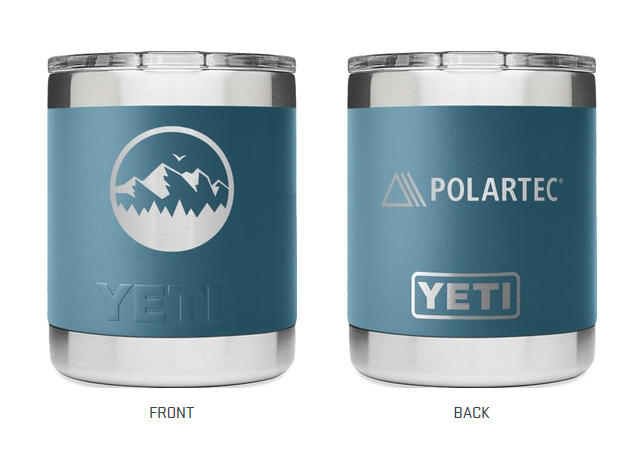 🧢 Order your LAC trucker cap today! Head over to the LAC store page to see what we have for sale.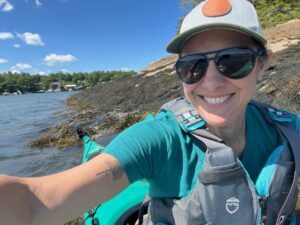 Upcoming Community Adventures
Maine
☀️ July 4-September 4: L.L. Bean Summer Across Maine
☀️ July 22-24: Ladies Hike, SUP, and Yoga Camping Retreat
☀️ July 28-August 14: Maine Outdoor Film Festival
☀️ July 30: Bend & Brew at Baxter Pub
☀️ August 13: Downeast Lakes 5-Miler
☀️ August 14-16: Camp Adventures for Grown-Ups
☀️ August 19-21: Enduro World Series at Sugarloaf
☀️ August 20: MATLT Community Hike at Goose Eye
☀️ August 28: MATLT Community Hike at Moxie Bald Mountain
☀️ September 3: Crescent Lake Paddle & Potluck
☀️ September 24: MATLT Community Hike at Four Ponds
New Hampshire
☀️ 10 week series beginning 6/3: Friday Night Vert with Ski the Whites
☀️ August 12: Jackson Covered Bridge 10K Road Race
Happy adventuring, and you too can do hard things,