All About Land Trusts
Blog
June 13, 2022
Hi all:
It's here! LAC Summer Land Trust Bingo is live. You can head over to the LAC website, private Facebook page or our Instagram feed to find the downloadable .pdf. bingo card.
Just like the email about mental health, I've outsourced this column to folks who know way more about land trusts than I do. Thanks to Donna Bissett and Warren Whitney of Maine Coast Heritage Trust and Jeff Romano who writes hiking books for sharing their knowledge and enthusiasm about Maine land trusts. And thanks to Jess Burton, ED of Southern Maine Conservation Collaborative for introducing us.
Enjoy Land Trust Lands and Lend a Hand 
 
Maine has over 80 land trusts that provide countless community benefits throughout the state. Continually evolving, these charitable land conservation organizations meet the needs of Maine people in many ways and make the state a better place to live, work, and raise a family.  
 
Land trusts achieve their missions by working with willing property owners, including those who want to know that their beloved family land is responsibly managed forever. In exchange, land trusts care for these properties adhering to the highest standards. These lands provide over 1,300 miles of hiking trails, more than 275 miles of mountain biking trails, 570 miles of snowmobile trails, and many water-access points for boating, fishing, and more. As members of the Ladies Adventure Club, you've probably spent many enjoyable hours taking advantage of these amenities.  
 
But did you know that land trusts don't just protect recreational land? They do so much more! Many offer environmental education programs; some bring partners together to restore wetlands, develop community gardens, or enhance local economic opportunities; and others hold workshops and forums on subjects like climate change. While working on their unique missions in their specific regions, Maine's land trusts also collaborate, share ideas, and promote best practices through the Maine Land Trust Network, and often, neighboring organizations partner on projects of mutual interest.   
 
Led by volunteer board members and dedicated staff, land trusts rely on generous supporters and charitable donations to accomplish this important work. And they depend on a hearty band of volunteers for trail clearing and other necessary tasks.   
 
If you've had meaningful experiences on land trust properties and are interested in giving back, there are all kinds of ways you can support your local land trust. Of course, financial contributions are always welcome, but you can also take part in trail workdays, volunteer to lead a walk or paddle, and make a point to tell your local legislators how conservation makes the community a more vibrant, healthy, and welcoming place.  
 
Maine's land trusts look forward to welcoming you to their trails and events this summer! See you out there soon. 
 
Check out the website for the The Maine Land Trust Network which is a program of Maine Coast Heritage Trust. MLTN builds and sustains the quality and effectiveness of land trusts, as well as other organizations engaged in land conservation, drawing upon the collective expertise and resources to ensure responsible and successful conservation.
Thanks to Donna, Warren, and Jeff.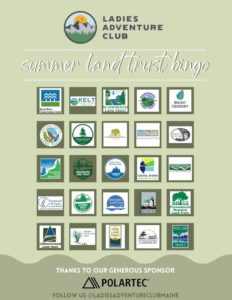 Here are the LAC Summer Land Trust Bingo game rules (subject to change a little as we move along):
Follow us on Facebook and Instagram
Complete a hike and tag us (@ladiesadventureclubmaine) in your IG or Facebook post or story (It can be  a photo of a trail sign, view from the top, or a brief trail report).
Keep track of your performance by marking an "x" for each land trust box you complete.
The center square (the MCHT square) is a free box for all players.
Post a photo of your completed scorecard on Facebook or Instagram, using the hashtags #explorewithlac #summerlandtrustbingo on or before Wednesday, August 31st.
All completed bingo cards will be entered into a drawing for a women's Osprey backpack.
Special prizes for:
The first player to complete an entire row.
The first player to complete the entire board.
Submit your completed bingo form via this google form. Drawing for prizes will take place on September 8, 2023.
Bingo questions? Email me at gillian@ladiesadventureclubmaine.com
Thanks to our sponsors: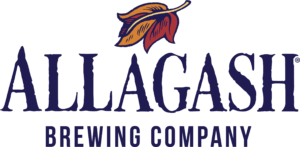 🌅 The LAC is partnering with L.L. Bean on Wednesday, July 13th for a LAC-only sunset/full moon tandem kayak adventure led by the Outdoor Discovery Program folks.
Details:
Date: July 13th
Time: 7-10 p.m.
Leaves from L.L. Bean's paddling center in Freeport
All paddling gear provided
Cost is $79/person
If you'd like one of the five remaining spots, please call the reservation center at 888-270-2326 and confirm your reservation. Mention the Ladies Adventure Club when you call. It promises to be a fabulous evening adventure!
Our next LAC community gathering is on Thursday, June 30th.
No need to sign up; just show up!
Location: Kettle Cove, Cape Elizabeth
Date: Thursday, June 30th
Time: Meet at 5:00 p.m. for a 2.5-3.0 mile walk (trailhead TBD). 6:30 BYO picnic on the beach. 7:30ish Ice cream at Kettle Cove Creamery.
You are welcome to join for all or some of the evening. Bring your favorite blanket, beach/camp chair, and, if you'd like, invite a female friend (maybe someone new to Portland).
Flowfold is offering a 25% off coupon to all LAC community members. Use this code when you order from this well-regarded, community-minded, Maine-based company: LAC25
Get ready for spring and summer – order your LAC trucker cap today! Head over to the LAC store page.
Upcoming Community Adventures
Maine
☀️ April 20-June 29: Women's Hike Night at Pineland Farms
☀️ June 14: Maine Audubon's Sunset Puffin Cruise II
☀️ June 14: Eastern Trail Alliance Full Moon Walk
☀️ June 14: Two Maine Mermaids Full Moon Swim
☀️ June 15: Wednesday Bird Walk at Audubon's Scarborough Marsh
☀️ June 26: MATLT Community Hike at Little Bigelow
☀️ June 30: LAC Community Gathering at Kettle Cove
☀️ July 13: LAC & L.L. Bean Sunset/full moon Tandem Kayak Adventure
☀️ July 22-24: Ladies Hike, SUP, and Yoga Camping Retreat
☀️ August 14-16: Camp Adventures for Grown-Ups
☀️ August 19-21: Enduro World Series at Sugarloaf
☀️ September 3: Crescent Lake Paddle & Potluck
New Hampshire
☀️ 10 week series beginning 6/3: Friday Night Vert with Ski the Whites
☀️ August 12: Jackson Covered Bridge 10K Road Race
Lastly, but definitely not to end up at the bottom of YOUR list, my husband is acting in a play at the Desert of Maine (where we had our fabulous gathering last year). CARAVAN OF DREAMS is a world-premiere fantasy about a girl who must save her city from mysterious dark forces. Music, comedy, dance, and an impossibly large puppet conjure up a magical world where imagination becomes reality, and nothing is as it seems. Buy your tickets here and bring a picnic and your own chair. I'll be there tonight (if the rain stays away). Maybe I'll see you? Would love to.
Happy adventuring,