Hike Report and oh, those black flies!
Blog
May 22, 2022
Yesterday Kate and I hiked Pleasant Mountain in Denmark. Kate generously wrote up a trip report – here it is.
Pleasant Mountain Trip Report
There's something special about getting out in nature and getting away from our hectic and everyday lives to connect and catch up with friends. After a busy couple of weeks with travel and family obligations, Gillian and I completed the second hike in the "Sea to Summit Series" up Pleasant Mountain on Tuesday.
Pleasant Mountain is located in Bridgton and Denmark, just a little over an hour from Portland. It is part of the Loon Echo Land Trust. The Trust maintains a 30+ mile trail network through all its land trust trails. Pleasant Mountain is Southern Maine's tallest mountain at 2,006 feet at the summit. 
The drive out there was lovely and I was amazed at how much had changed in the week that I had been away. The crabapple and magnolia trees, lilacs and native wildflowers were in full bloom! I stopped at one point to take in the scent of the lilacs and take a photo.
We hiked the Ledges Trial, which is about four miles round trip. There are several other options for shorter and longer hikes. We paused about half way up to enjoy the stunning views of Moose Pond. We had  lunch (and delicious chocolate muffins that Gillian baked that morning) at the top. It took us about two hours to complete the hike, but like I said we had some catching up to do.
Trip Review & The Black Fly Report
The trails are in good shape and mostly dry, with only a few wet areas. Whether you're spring hiking, paddling, or backpacking, it's important to be prepared, and that includes protecting yourself against biting flies. We have a few tips and tricks for enjoying the outdoors during black fly season, from the middle of May through the end of June in Maine:
Wear light-colored clothing – black flies love dark colors

Wear long-sleeved tees and full-length hiking pants

Apply a bug repellent (ex. Ranger with 20% Picaridin) to your clothes, and/or natural repellents (ex. Natrapel) directly to your skin

Keep moving! 

Hike on breezy days – Tuesday's winds at the top were a welcome reprieve from the warmth of the sun and the black flies! 

Hike during the middle of the day – black flies don't love the bright afternoon sun and lower humidity, preferring to move around after dawn and for an hour or two before sunset;

Enjoy open areas – large ponds and lakes included – black files prefer woods and flowing streams

Don't hike on especially muggy days – black flies love humid weather

Wear a head net to keep flies and mosquitoes off your head and neck – we wished we had had one at times! 
Gear List & Notes
We each brought small 24 litre packs and included lightweight layers and rain/wind shells. It was warm, but very windy at the top, and we were happy to have an extra layer to put on. After we had packed up and were preparing to head back down, we thought we heard rumbles of thunder in the distance. The clouds around us looked like cumulus clouds, so we weren't worried, but they can also grow and bring rain and weather. We were both happy to have our poles which saved us several times on the ledges/rocks and provided stability on the wet parts of the trails. 
Getting out in nature helps us to clear the clutter in our minds. Whether it is biking in your neighborhood, taking a hike at your local land trust or exploring the trails at a national park, there are a lot of benefits to our health and well-being when we get outdoors – the benefits might actually increase when you adventure with a friend! 
Thanks, Kate for this thorough and helpful write-up. Who are you taking on your next adventure? Please drop us a note and tell us where you are adventuring and who you are adventuring with.

The LAC is partnering with L.L. Bean on Wednesday, July 13th for a LAC-only sunset/full moon tandem kayak adventure led by the Outdoor Discovery Program folks.
Details:
Date: July 13th
Time: 7-10 p.m.
Leaves from L.L. Bean's paddling center in Freeport
All paddling gear provided
Cost is $79/person
If you'd like one of the remaining 9 spots, please call the reservation center at 888-270-2326 and confirm your reservation. Mention the Ladies Adventure Club when you call. It promises to be a fabulous evening adventure!
Our next LAC community gathering is on Thursday, June 30th.
No need to sign up; just show up!
 
Location: Kettle Cove, Cape Elizabeth
Date: Thursday, June 30th
Time: Meet at 5:00 p.m. for a 2.5-3.0 mile walk (trailhead TBD). 6:30 BYO picnic on the beach. 7:30ish Ice cream at Kettle Cove Creamery.
You are welcome to join for all or some of the evening. Bring your favorite blanket, beach/camp chair, and, if you'd like, invite a female friend (maybe someone new to Portland).
Flowfold is offering a 25% off coupon to all LAC community members. Use this code when you order from this well-regarded, community-minded, Maine-based company: LAC25
Get ready for spring and summer – order your LAC trucker cap today! Head over to the LAC store page.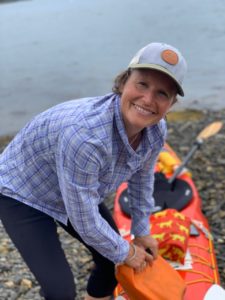 Upcoming Community Adventures
Maine
☀️ April 20-June 29: Women's Hike Night at Pineland Farms
☀️ May 24 & 25: Banff Film Festival
☀️ June 4 & 5: Harpswell Hiking Challenge
☀️ June 11: Maine Canoe Symposium
☀️ June 14: Eastern Trail Alliance Full Moon Walk
☀️ June 14: Two Maine Mermaids Full Moon Swim
☀️ June 30: LAC Community Gathering at Kettle Cove
☀️ July 13: LAC & L.L. Bean Sunset/full moon Tandem Kayak Adventure
☀️ July 22-24: Ladies Hike, SUP, and Yoga Camping Retreat
☀️ August 14-16: Camp Adventures for Grown-Ups
☀️ Date TBD: Kayak Oyster Tour with Alicia (more info to come)
New Hampshire
☀️ 10 week series beginning 6/3: Friday Night Vert with Ski the Whites
☀️ August 12: Jackson Covered Bridge 10K Road Race
Happy adventuring,