Hey, Candy!
Blog
January 15, 2023
Today's LAC email features Candy Lang who as soon as she joined the membership (we were a paid membership when she joined), jumped right in with both feet. I remember her very first hike on Blueberry Mountain in Stow. She had tons of questions for us all because it was her VERY FIRST HIKE and through the course of the day we discovered that her very second hike was going to be Katahdin. I mean, really, who does that? Well, Candy Lang does. Read on to hear more about her story.
Candy writes: I am from a small coal mining and steel mill town in Pennsylvania. After high school, I went to cosmetology school and eventually opened my own salon. After 35 years of living in PA, I got married and moved to Florida. My daughter was born there (now 19). We continued to move every two-three years for my husband's job. Maine was our eighth move and it was the hardest transition for me. Moving back to the cold weather was tough. I've lived here now for seven years.
In March of 2021 I discovered I had breast cancer. 12 rounds of chemo, six surgeries followed by one year of immunotherapy.  1 1/2 years later, I'm finally on the mend. I'm active in fitness and am certified in Yoga and Balanced Body Barre (Gillian's side note, Candy taught a Zoom barre class for us during the pandemic and it was hard!)
I'm mostly a warm weather, beach-y person and I never explored the mountains in Pennsylvania, but being outside in nature clears my mind and keeps me grounded. It is important to me because I want to try new and different things. 
I found out about the LAC and was very intrigued so I joined. It was a great opportunity to meet new people and explore nature. After hiking with the LAC, I went on my first solo hike with my dog who locked me out of my car when we got to the trail head!
My first hike was with LAC and we climbed Blueberry Mountain. My second hike was Mt. Katahdin. Obviously I didn't know what I was in for! 
Some LAC favorites:
Hiking, clamming, and my absolute favorite adventure was ice climbing!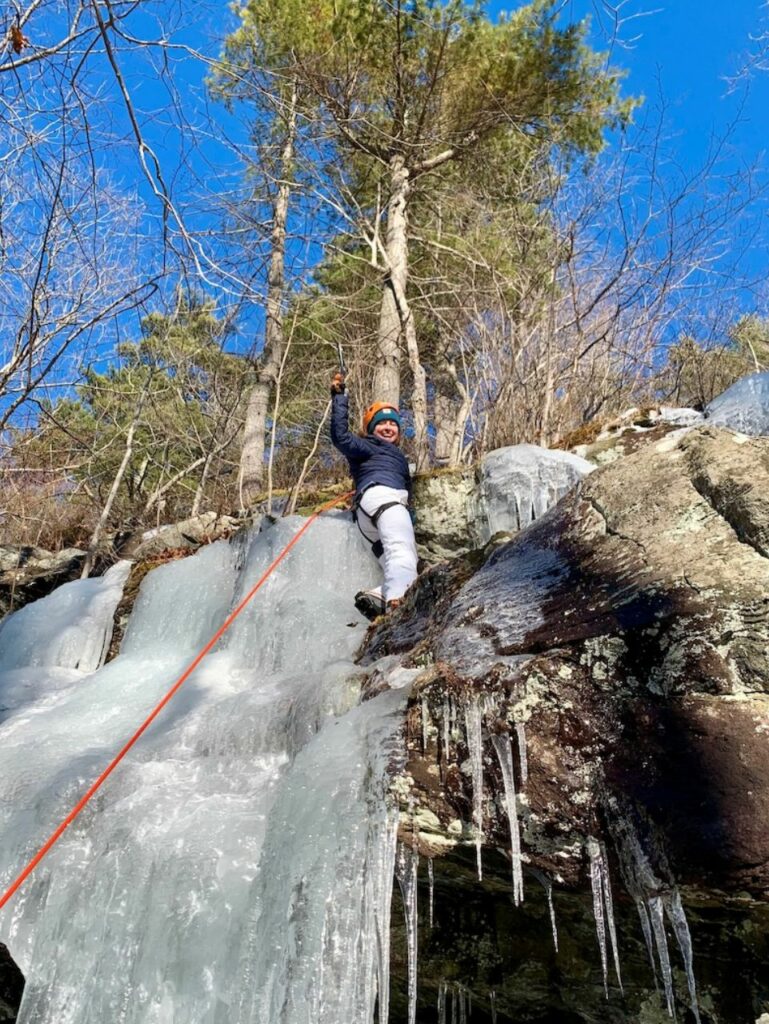 Candy at the top of the ice climbing pitch
LAC was a life changing experience for me. It gave me confidence in myself, and courage to try new things. I am definitely way more adventurous now. I could barely jump off a five-foot rock into the water. But recently, I went to Jamaica with my daughter and jumped off of a 30-foot rope swing over a waterfall!
I would like to tackle Mt. Katahdin one more time and try cross country skiing too. I am looking forward to getting back to my new normal after my breast cancer experience. 
Favorite things to do in Maine: when family or friends com to visit me in Maine, I take them to the Old Port, of course, for shopping and trying new restaurants. Sharing Peaks Island and renting a golf cart to cruise the island, see the bunkers, and Reggae Fest is also a must.
Every single person I've met through LAC encouraged and supported me on every adventure. No judging – just fun-loving people who want to give others confidence to make them feel good about themselves. Sometimes it's really hard to find those kind of people.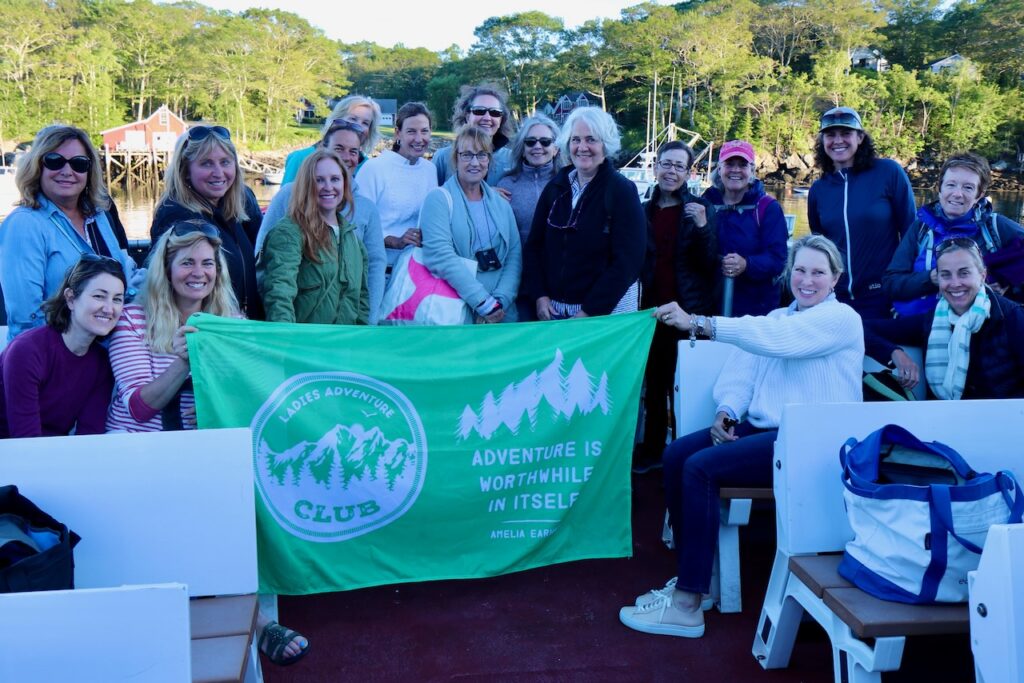 LAC on a puffin cruise. Candy's in the green jacket.
Candy, thanks for sharing with us and I hope you do get back to Katahdin soon.
You know that the LAC is all about supporting women and women-run/owned businesses (which is one reason we chose Anoche for our LAC social this past Thursday). Here's another woman-owned business in the Portland area: H2O Fitness Collaborative. I don't have first-hand experience with them, but I do know one of the owners, Stacy Cimino. Stacy asked if I'd promote a workshop she and her partner are offering at the end of the month. It's a small group course about developing healthy habits. You can read more about it here and reach out to Stacy if you'd like to learn more or sign up
Happy adventuring,