Goal achieved #50hikesforhappiness
Blog
Hiking
November 27, 2022
Hi all:
In July 2021, I gave myself a goal of hiking/skinning 50 peaks before I turned 50 in January 2023. I set up an Excel doc (I love lists!) and started recording all of my climbs; I called it #50hikesforhappiness. The parameters were that the outing had to have a minimum of 800 feet elevation gain and be at least two miles, round-trip. Just last Saturday, in Western Maine, I completed my goal. My 50th hike was on Goose Eye Mountain near Newry in my most favorite season. Even though Portland was barren of snow, up in the hills of Western Maine, we hiked in full-winter conditions. The hike was a tough one for me; I was slow and because I had done weights the day before, my legs were exhausted (poor planning on my part), but I made it to that summit. Typically, I'm not a goal setter and I don't know what inspired me to say this one out loud. Don't get me wrong, I love achieving and accomplishing, but I don't usually make goals or set resolutions, but maybe I've shifted – I liked having something to work toward. I'm going to keep logging my hikes in my lovely Excel spreadsheet because it's fun having a record of how I spend my weekends and free moments. I'm also looking forward to turning 50 and seeing what's around that corner.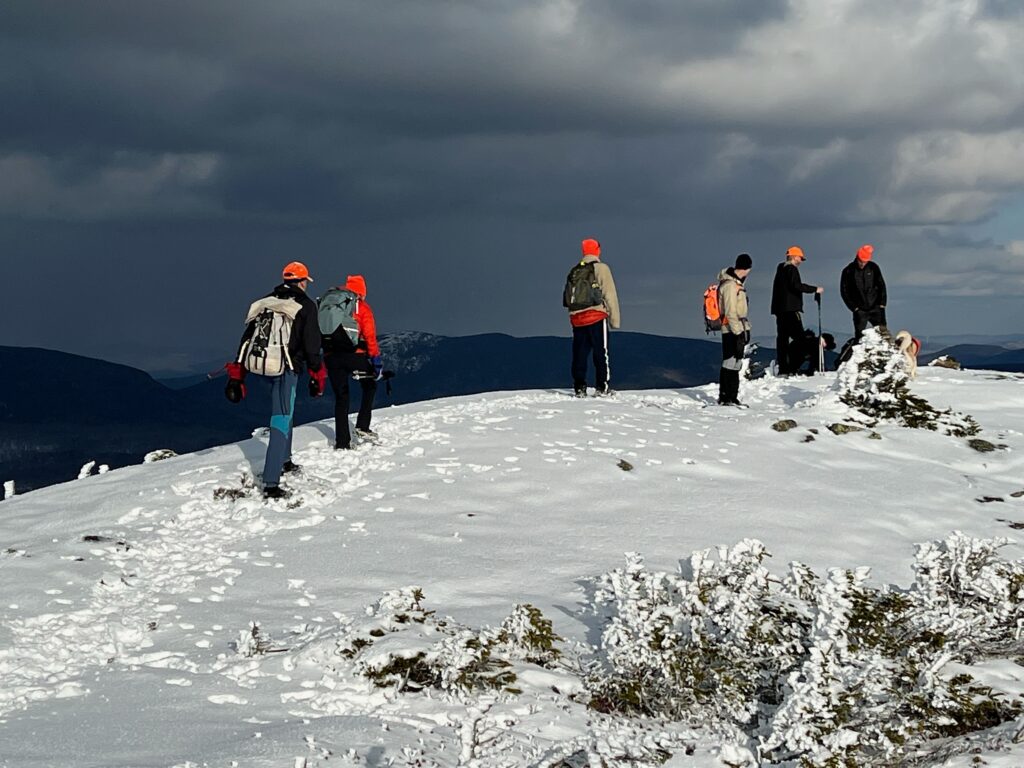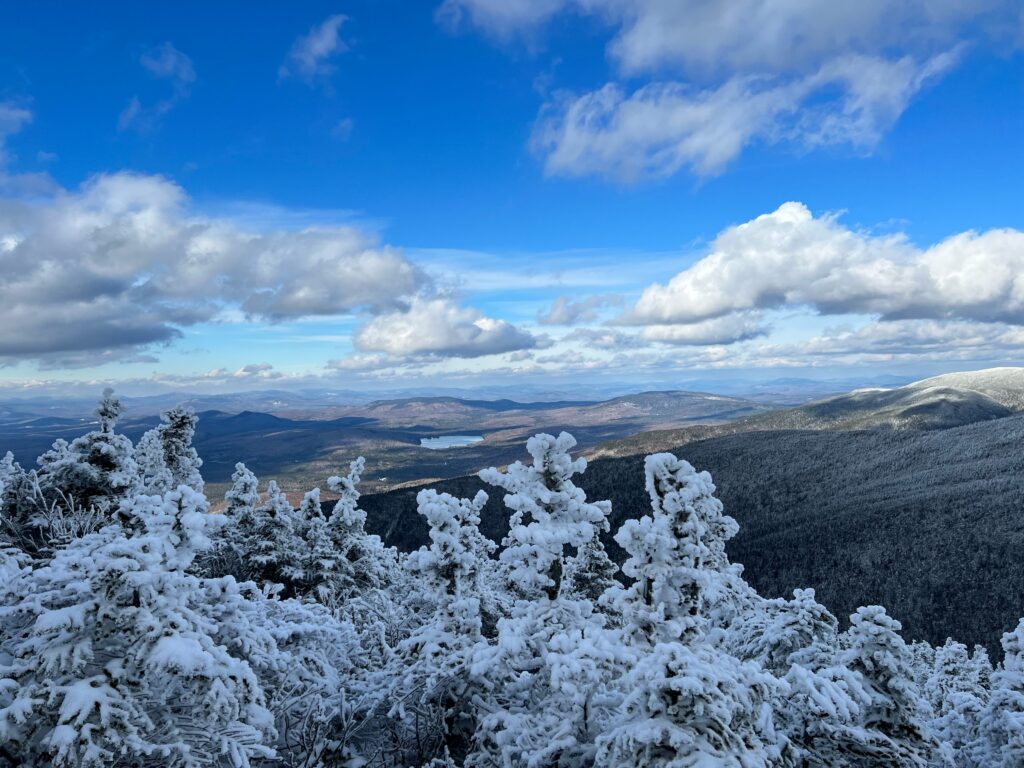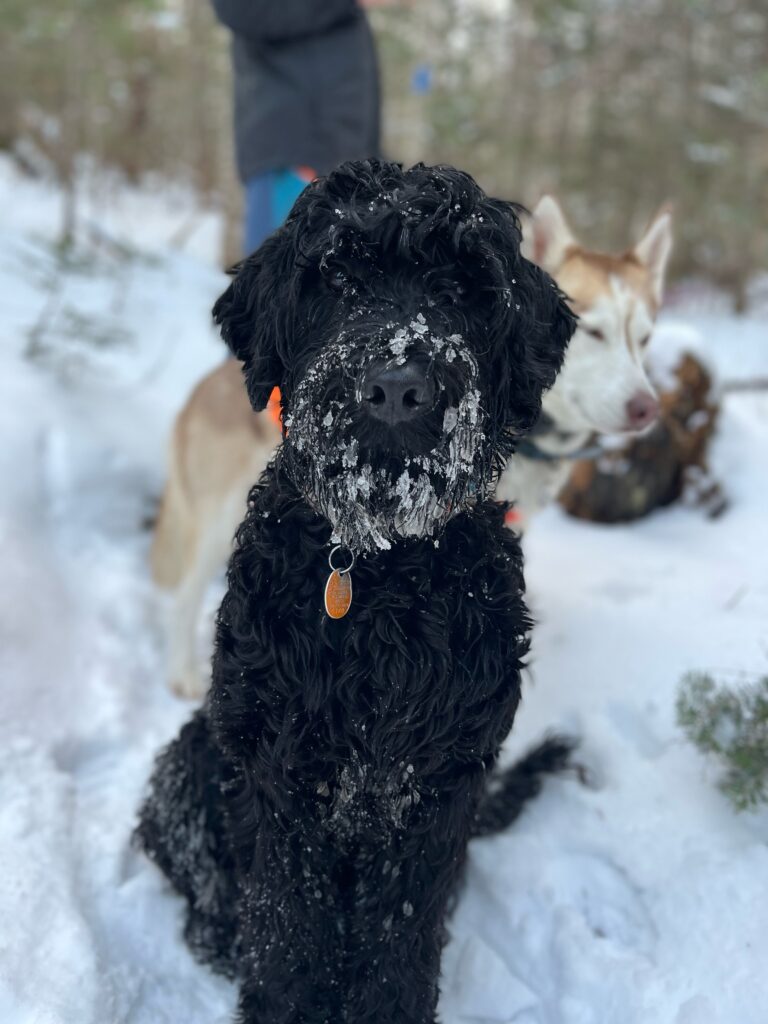 My cute Alfredo
I posted this on the LAC Facebook page the other day, but I know that not all who read this email are on Facebook so I'm adding it in here as well.
I'm guessing that many of us were following the tragic story of Emily Sotelo last week. In mid-September I hiked exactly where she had been so I could picture where she was, but couldn't imagine what she was feeling and experiencing. A few days ago I headed out to REI and bought myself an emergency bivy – nothing fancy or expensive – just enough to help me through a night if I'm unlucky enough to unintentionally spend a night in the woods (there's more safety stuff in my pack than just that, of course). Here's a link to an article that you might find interesting. Even though we're not all ultra-runners, the tips are the same for hiking.
The LAC is hosting a full-moon walk on Wednesday, December 7th at 4:00 p.m. We'll meet at Mackworth Island in Falmouth and walk under the light of the full moon (but do bring your headlamp). After the walk, we'll head over to Après for some social time together. Feel free to join us for just the walk, just the time at Après or all of it. No need to RSVP.
LAC Community Events (these are LAC only adventures and anyone reading this email is welcome to join)
🌕 Full (Cold) Moon Walk on Wednesday, December 7th at 4:00 p.m. Drinks after at Aprés
🎦 A fun Zoom panel on Thursday, January 12th at 7 p.m.
🎿 Join LAC members Cynthia & Abby for an afternoon of cross-country skiing in Bethel (specific meeting spot is TBD). The group will ski 5-10+ kilometres depending on snow conditions (this outing is for intermediate skiers). If there's enough interest, there can be a skate ski and a classic ski group. Stay afterwards for drinks and food at the Millbrook Tavern at the Bethel Inn. 
RSVP to Cynthia (cynthiaosterling@gmail.com) for final details.
❄️ Oxbow (in Oxford) Cross Country Ski Adventure and Pizza & Beer! on Sunday, January 29th in the afternoon. (May be preceded by a skinning adventure at Mount Abrams. Woot woot! 🎿)
 
Upcoming Community (not all LAC) Adventures — To ease confusion, these are not LAC adventures (except for the ones that say, "LAC"). These are adventures we're sharing that are put-on by other orgs. And if you have ideas for the calendar, please send me a note.
Maine
❄️ November 19-December 31: Coastal Maine Botanical Garden: Gardens Aglow
❄️ November 30: Nexus Women's Ski Film Night at Après (a few of us are going; join in!)
❄️ December 1: Maine Audubon Bird Walk
❄️ December 3: Millinocket Marathon & Half
❄️ December 4: Maine Audubon Beginner Bird Walk
❄️ December 7: LAC Full Moon Walk
❄️ December 8: Pineland Farms Nature Forest Therapy
❄️ December 17: Black Mountain of Maine Hill Climb
❄️ December 18: Portland Backcountry Night with Emgee Events
❄️ December 29: Sugarloaf Climb for a Cure
❄️ January 1-March 26: L.L. Bean's Discounted Ski Days at Maine ski mountains
❄️ January 12: LAC Zoom (details coming soon)
❄️ January 21: Cynthia & Abby's LAC Cross Country Ski Outing in Bethel
❄️ January 29: LAC Oxbow Cross Country Ski Adventure
❄️ February 10-13: Last Skier Standing at Black Mountain of Maine
New Hampshire
❄️ December 3: Tin Mountain Conservation Center Winter Tree ID
Happy adventuring,